Double Dutch Farms – Mobius M210 Mill Case Study
Double Dutch Farms is a Tier 3 cannabis cultivator located in rural Yakima County, Washington. Their horticulture heritage goes back many generations, and when cannabis was legalized in 2012, they retrofitted one of their existing greenhouses to focus on cannabis. Today, they cultivate "indoor flower at outdoor prices" in their 1 acre, state-of-the-art facility. Their business is currently split about 50/50 between wholesale and retail.
  The Problem  .
Double Dutch has been producing pre-rolls for about 2 years. They're now focused on rapid growth, and have been looking for ways to scale up this growing product category. Their current workflow for breaking down flower to be used in pre-rolls (and trim for extracts) included a standard food processor. This made scaling-up their pre-roll workflow difficult, and caused a number of issues:
It was easy to overdo the flower and grind it too fine, so they had to use a "pulsing" method rather than just letting the food processor run;
Employees needed to go through the ground product afterwards with sivs to pull out any stems or large pieces that remained;
A team of 3 could do process approximately a pound of material in 30 minutes;
It was impossible to maintain consistency between batches.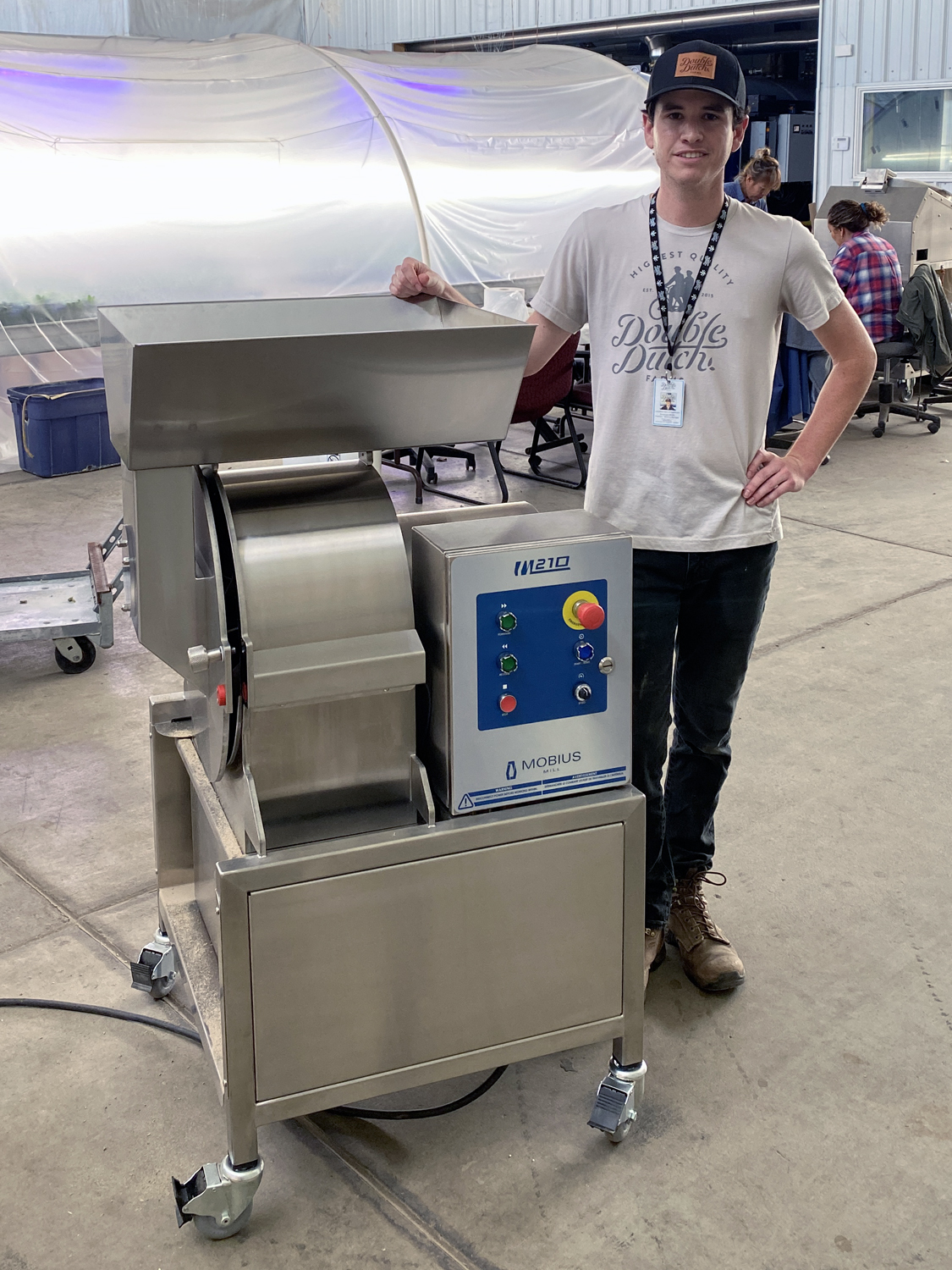 The Contest  .
On April 10th, Mobius ran a contest for a giveaway of the M210 Mill, and on April 30 Double Dutch was announced as the lucky winner. We made the journey out to their facility and delivered their brand new M210 on May 13.
"When they pulled it out of the crate it had a really sleek design. It was very clean, and simple. The Mobius team gave us a great demo, and I was surprised at how easy it was to use. Basically just plug and play," said Andrew Van Wingerden, Double Dutch's Director of Operations.
  The Result  .
Now that they've been using the Mobius M210 Mill for a few weeks, Double Dutch has seen big improvements in their pre-roll workflow:
Almost no secondary processing is needed – the unwanted material just stays on top of the mesh;
The flower can be dumped in the hopper and it runs through the M210 without the starting-and-stopping required before;
Product is now perfectly consistent throughout, and even between, batches;
Prep-time is reduced by half;
Can now process 3 pounds in 15 minutes with 1 person.

"I've got nothing but good things to say about the Mobius Mill. We've been able to scale up our pre-roll output to where we wanted it basically overnight. It's helping us out a lot, and I'm sure can do the same for other producers as well."
A mill that's purpose-built specifically for the cannabis and hemp industry will always outperform anything else, and the Mobius M210 Mill is the best on the market. Whether you produce pre-rolls, extracts, or just sell trim wholesale, the M210 will drastically improve your workflow.