The Most Technologically Advanced Bud Trimmer in the Cannabis Industry
Changing Trimming Forever
The M108S commercial cannabis trimmer is revolutionizing trim rooms around the world. It is built for cannabis and hemp cultivators who demand high-quality trimmed cannabis without sacrificing production volume or speed.
Hand Cost Vs Machine Cost
Annual Production

(LB)

Weekly Production

(LB)

Staff Reduction

Annual Cost Savings

Cost Savings

130,000*
2,500
94%
$3,369,600
90%
104,000
2,000
95%
$2,733,120
91%
78,000
1,500
93%
$1,971,840
88%
52,000
1,000
93%
$1,237,600
84%
26,000
500
86%
$538,720
70%
* Quantity of machines increased to accommodate the highest production levels. Further increases in production would result in additional savings and staff reductions relative to annual production.
Get a free evaluation of your harvest costs and payback.
Trim at industry-leading feed rates without losing the hand-trim quality your brand expects. Unlike traditional trimmers, the Mobius M108S is designed with next-generation technology not found on any other trimmers, enabling it to deliver a hand-trim quality with minimal losses.
Cuts Like Scissors
Designed to function identical to scissors, the surgical-grade stainless steel bed knives flex against the helical blades. The two cutting edges remain in constant contact with each other, with no gaps or dead spots.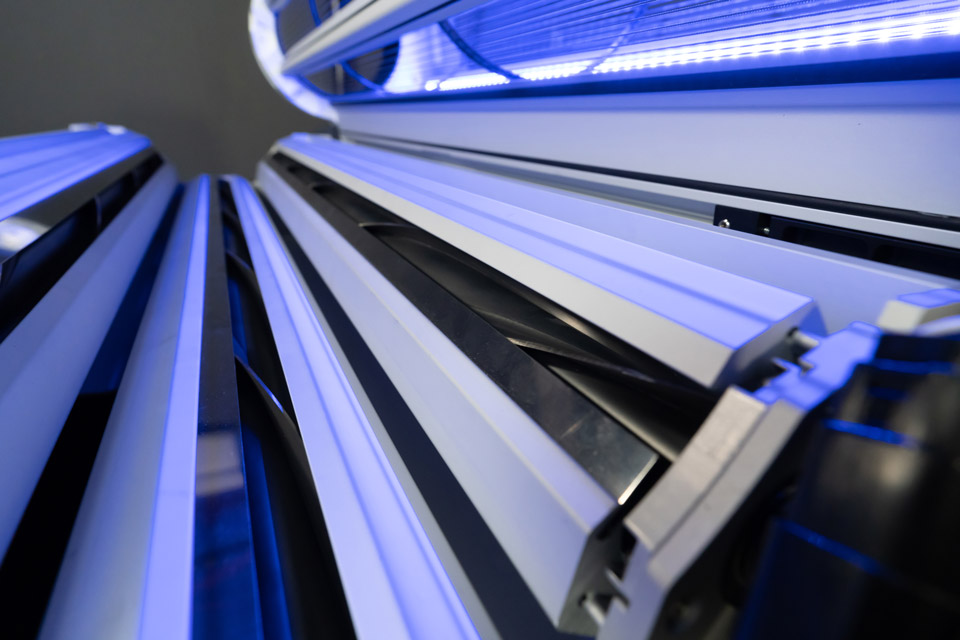 The quality of the product that comes out on the output conveyors as opposed to what goes in on the input is just night and day…Trichome count and the condition is almost perfect coming, the product looks amazing.

–

JACK WHELAN
OPERATIONS SUPERVISOR,
SAFARI FLOWER CO.
How M108s Maintains Potency
Effortlessly switch from airy, dry sativas to dense, fresh indicas with the turn of a knob. The next-generation technology of the M108S was engineered to give you total control over your trimming process and complete confidence in your lab results.
Faster = Fewer Losses
Three independent helical blade cartridges are set side-by-side, giving flowers three cut-point opportunities with each pass of the tumbler. Product is trimmed faster and spends less time in the tumbler, minimizing the risk of impact damage.
Not only does the semi-enclosed M108S create less mess, but cleaning it is quick and easy. Breaking down the M108S is nearly tool-less, and is designed so that all plant-touching components are "hot-swappable". Quickly replace dirty components with fresh ones to maximize production time. Keep your trim-team trimming, while your sanitation crew cleans in parallel.
Stainless Steel Construction
Washdown Compatible
IQ/OQ Documentation Package
A Vacuum Designed for GMP
The Integrated Separation System has an entirely hose-less design. That means there are no hoses to clean or dispose of. By removing hoses from your trimming process, you remove one of the major obstacles to upholding GMP standards in your harvesting workflow.
Your Investment is 100% Risk-Free
Every Mobius M108S comes with our unprecedented money-back guarantee. If you are not blown away by the speed and precision of the M108S cannabis trimmer — or if it deviates from your performance requirements in any way — simply return the M108S for a full refund.
Cost-effective Scalability
Tandem-Ready
Increase throughput by more than double when a second M108S is connected in tandem. Our tests have shown that tandem configuration has a faster feed rate and yields more top-quality trimmed flower than running two trimmers independently.
The M108S requires no additional parts to set up for tandem bud trimming. Machines are made to lock into each other with a few easy steps
No adjustements needed
Factory calibrated blade cartridges lift in and out of the machine without bolts or screws. The blades never need to be adjusted or "dialed in." You'll get a precision cut every time; no "clicks" required.
QUICK DISASSEMBLY
Dismantle and remove the Integrated Separation System in seconds with a simple latch and cam system. Trim Tote can be emptied and replaced in under a minute, minimizing downtime.
Maintain maximum production with limited downtime by changing the AirThread Tension Tumbler, bed knives, and helical blades mid-trim session with our Hot Swap Kit.
Non-stop Hot Swap
Restore optimal performance and keep trimming by swapping out the AirThread Tension Tumbler, bed knives, and helical blades mid-trim session. This optimized workflow allows you to install clean components, without stopping, for maximum return on your investment.
You put a lot of work into the grow to make sure you have the cannabinoid levels that you are looking for and we don't want those trichomes to be knocked off during trim. The Mobius – because of the design of it – we have very high trichome retention.

–

MONIKA SERABIAN
HARVEST SUPERVISOR, ALEAFIA HEALTH
Integrate with the Automation Suite
Thursdays at 8:30 AM PST:  Join Mobius experts for a live Q&A session! Bring all your burning questions to have them answered live. Don't have time to stay the full hour? No problem! Feel free to drop in and out.
| | | |
| --- | --- | --- |
|   | ONE MOBIUS UNIT | TWO MOBIUS UNITS |
| WET | 66 – 120 lbs/hr | 30 – 55 kg/hr | 110 – 260 lbs/hr | 50 – 120 kg/hr |
| DRY | 30 – 60 lbs/hr | 13 – 30 kg/hr | 70 – 140 lbs/hr | 30 – 65 kg/hr |
Machines themselves cannot be GMP-compliant, however, our machine was designed to be GMP-Ready and is constructed with 304 stainless steel which allows it to be integrated into GMP-certified facilities with ease.
One person is required to operate the machine. One to three people may be required for quality control depending on your use case.
With tool-free assembly and disassembly, cleaning is a breeze. You can also purchase a Hot Swap Kit to continue trimming without having to stop for a full cleaning.