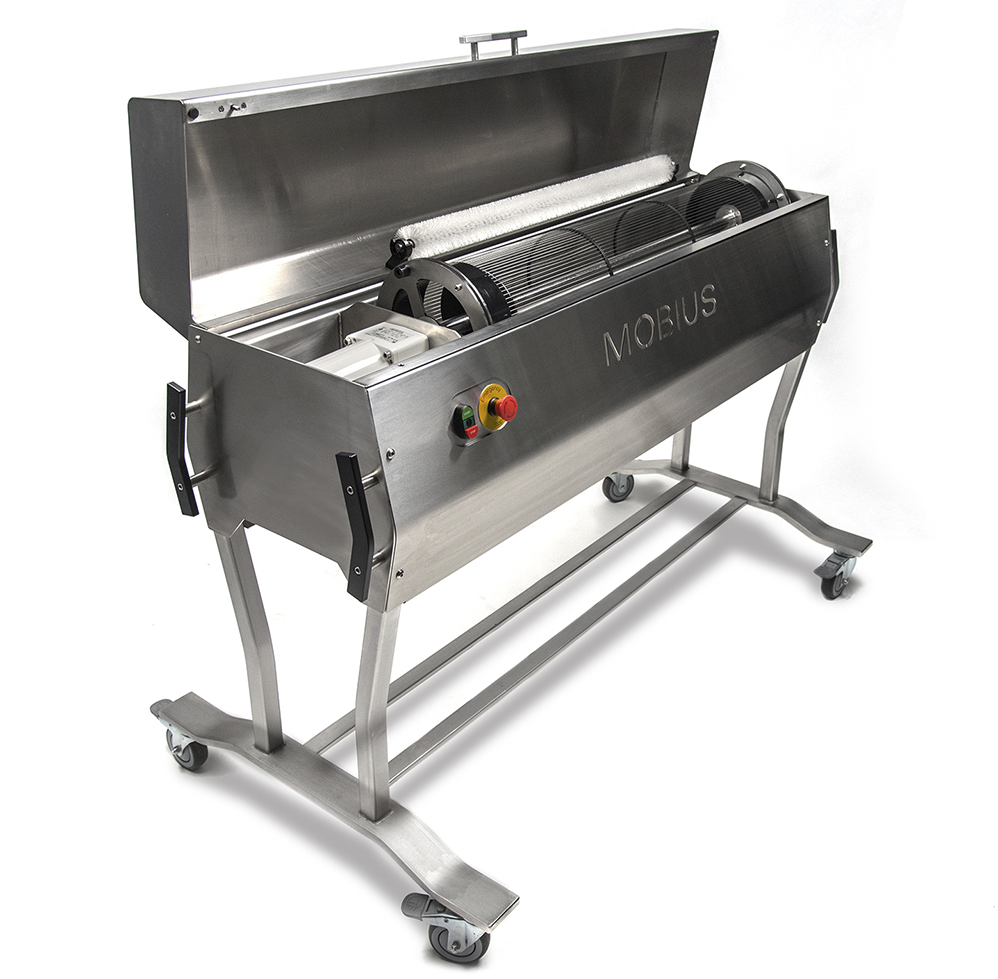 SQUEAKY CLEAN TUMBLERS & BRUSHES FOR TOP-TRIMMED CANNABIS & HEMP
Improved Trimming Performance
The Mobius Tumbler & Brush Washer takes a sizable bite out of cleaning your M108S Trimmer. Built from rugged stainless steel parts and powered by a 1/8 HP motor, the Tumbler & Brush Washer automatically cleans your AirThread Tension Tumbler and brush bar to a level difficult to achieve manually. Simply attach the tumbler and brush bar to the mounting points, add a mixture of warm water and your preferred cleaning solution to the basin, and switch the unit on. In 5 minutes your AirThread Tension Tumbler and brush bar will be deep cleaned to the same extent as soaking, washing, and scrubbing each item for 30 minutes.
A properly cleaned tumbler and brush dramatically improves overall product quality and reduces the chance of batch cross-contamination. This improves GMP compliance and the consistency of your finished flower.
All Mobius equipment is constructed with stainless steel and other GMP-compatible materials for use in the most demanding GMP workflows.
An IP67, 1/8 HP waterproof motor powers the Mobius Tumbler & Brush Washer to cleaning perfection. Overfill holes clearly mark the ideal fill line for water and cleaning solution while ensuring the basin has the right amount of liquid.
The shrouded enclosure keeps hot surfaces away from the operator. Controls, including a large emergency stop, are within easy reach, and a safety switch shuts the motor down when the lid is opened. Mounted to the underside of the washbasin is an integrated 1.5" brass drain spout with a hose connection to easily empty dirty water. Four swivel casters with locks combined with side-mounted handles make the device easy to move and position.
Safely, and effectively clean your cannabis equipment with GMP Solutions Step 1 Cleaner. This powerful formula removes tough resin buildups and soils, helping you meet your GMP cleaning requirements.
Get the Tumbler & Brush Washer