Considering a T-Zero? Consider this!
Ever since Twister announced their claim of 600 lbs/hr, we've been dying to see it. Given our knowledge of trim technology, we had good reason to believe that this claim is a bit far-fetched. Before the COVID-19 crisis hit, we did a couple road trips down the west coast doing demos of our gear in a number of Cannabis and Hemp facilities in Washington, Oregon, and California. The owner of a T-Zero welcomed us into his facility to do a Mobius M108S demo running in parallel with his T-Zero.
Full disclosure: this was just a teaser trim-session, running about half a Super Sack of material. We're all about giving you the straight goods, so it wasn't a large enough sample for us to go forth making huge claims. As soon as the COVID-19 travel restrictions are lifted, we fully intend to hit the road again and challenge the T-Zero to a real showdown.
That said, we saw enough to have us licking our chops at the prospect of running a full trim-day in a true head-to-head with the T-Zero! This short trim-session did, however, confirm what we suspected all along: our one Mobius M108S tandem line had slightly better through-puts and vastly superior quality of trim compared to the T-Zero, at a fraction of the price! So much for 600 lbs per hour!
While the T-Zero seems impressive at first blush, a simple analysis of the actual machine vs the M108S tells the tale. Let's break it down. The M108S holds many advantages over every other trimmer, but most people consider these two main factors to be paramount: through-put and trim quality.
  Through-put (AKA Feed-rate)   .
Through-put is a function of how quickly the material can be trimmed. You'll see others advertise a 'Cuts per Minute' figure. This is, in our opinion, a fairy tale number. The reason why Cuts per Minute is basically useless and misleading can be boiled down to this: How quickly material can be trimmed is not a straight mathematical equation, rather it is a result of optimizing your machinery.  That's it. (See the blog we published on this topic in May 2020.)
The T-Zero has two helical cutters, with an advertised 'effective cut length' of 64". The name M108S comes from the fact that a single Mobius Trimmer has three x 36″ cutting heads for a total cut-length of 108″, so a tandem line offers 216″ of cutting opportunity over a length similar to the T-Zero's tumbler. Couple that with the fact that our patented AirThread Tension Tumbler offers 50% more area for the flower to access the cutters, and that is why nothing on the market, including the T-Zero, can compete with the Mobius M108S.
  Trim Quality     
Trim quality is so much better from the M108S than any other trimmer on the market owing to our patented TriFlex Blade System. While every other machine employs a rigid bed knife, Mobius uses a flexible "walking" bed knife that flexes into the helical blade, yielding the only true scissor-cut available. The fact that our AirThread Tension Tumbler is 1) ultra-slim profile, and 2) perfectly cylindrical, allowed our engineers to get the flower physically closer to the cutters than any other trimmer. The tumbler rides less than 30 thousandths of an inch above the action. Only our super-tight, clean scissor cut truly rivals hand-trimmed flower.
There are a number of other features built into the M108S that we can't wait to show you, so book a Demo!
The following points sum up why Mobius is the clear choice for your future harvest plans:
One Mobius M108S tandem line will replace a set-up of three Twister T2 tandem lines.
One Mobius M108S tandem line will out-perform a T-Zero in through-put volumes at the same time as delivering far superior trim-quality. Two M108S tandem lines will bury the T-Zero and leave $ix figures in your jeans.
Redundancy – all machinery needs maintenance and repair from time to time. What happens when the T-Zero needs attention? Your whole operation comes to a halt. With multiple M108S Trimmers, you can perform scheduled maintenance and repairs to one unit and you're still productive with the others.
Portability – The Mobius M108S fits through doorways and can easily be wheeled into your wash bay for cleaning, operated in multiple trim-rooms or even deployed at other sites. The T-Zero is a fixed installation that offers no such flexibility.
GMP-ready – The hose-free design of the Mobius M108S means it is compliant with the equipment requirements to manufacture GMP-Certified products, including products that use the trim. Twister? Not without cleaning 6 feet of corrugated hose to a standard so rigorous, with supporting documentation, that many users simply throw them away and buy new ones every trim-session.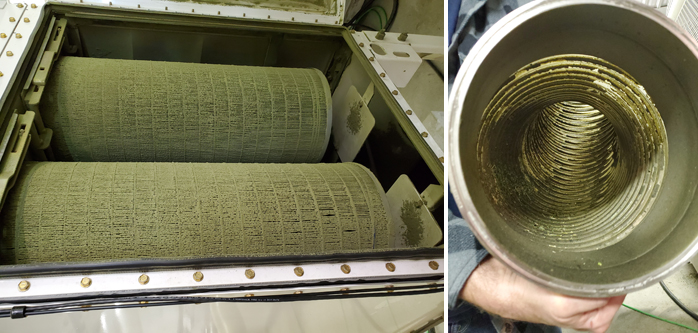 Have fun cleaning the T-Zero hoses and interior components, or absorb the cost of constantly replacing the hoses.
Scalability – Add another trimmer any time for a fraction of the cost of the T-Zero.
Cleaning – 1 – 2 people can clean a Mobius M108S in 30-60 minutes, no tools required. The T-Zero takes 2 people equipped with a toolbox about 8 hours to clean, and the hoses and filters can't be cleaned. Let that sink in: cleaning a T-Zero requires 2 full-time employees.
Footprint – Check out the photo taken from our head-to-head. The marketing materials for the T-Zero don't show all the other components required for the full installation, such as their dust collector that stands over 9 feet tall! The Mobius M108S is self-contained, as shown in all our marketing materials.



The mammoth footprint of the full T-Zero component requirements  vs. the footprint of a tandem M108S line.

Lead-time / Installation – The Mobius M108S is ready to plug in and run right out of the crate. With the M108S currently in stock and ready to ship, by this time next week, you could already have a Mobius trim-session under your belt!
Versatility – Multiple cultivars can be trimmed in parallel on individual M108S units.
Service – Mobius will move mountains to provide you killer service! Our personal phones are on 24/7 to support you.
Thanks for taking the time to discover why the Mobius M108S Trimmer will deliver the production levels you wish you could get from a T-Zero, while increasing the value of your trimmed flower. Not convinced? Got questions? Hit us up! We got you!