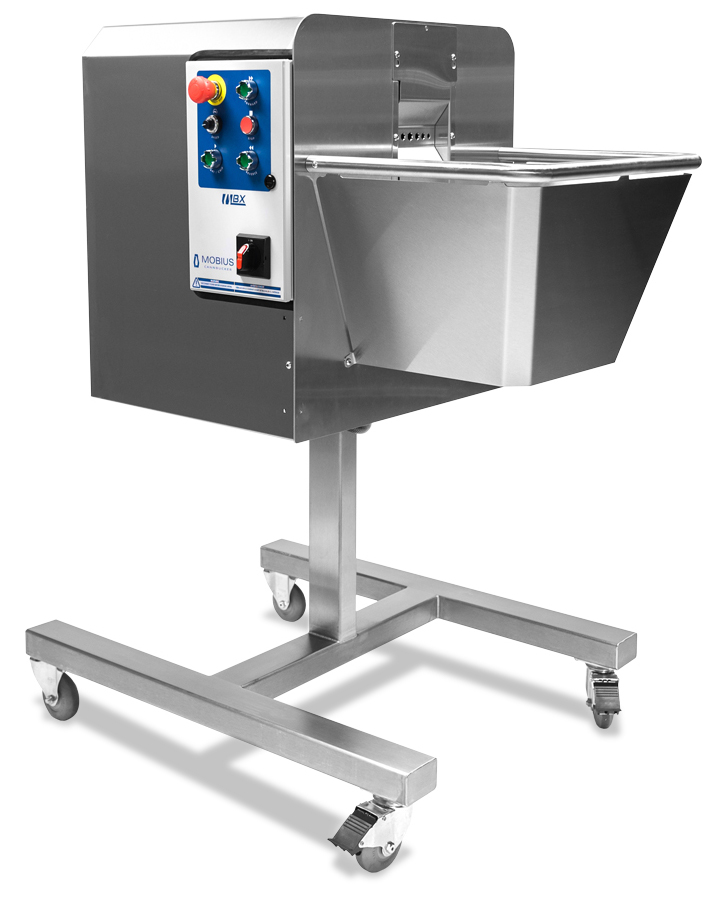 COMMERCIAL CANNABIS BUCKING MACHINE WITH INTEGRATED STEM CHIPPER
From tightly clustered indicas to airy sativas, the MBX reduces bud breakage and preserves crop value — whether you're bucking wet or dry.
Variable Speed
The 1/2 HP variable-speed motor and innovative die plates are gentle on flower but offer uncompromising pulling power on the stem.
Large diameter rollers and a powerful motor provide the grip and torque to strip full-sized stems at slow and controlled speeds, which reduces jams and minimizes downtime.
Next-Level Efficiency
The MBX Bucking machine has seven feed holes for dual-operator productivity and is fully automation-compatible. Its stainless steel chute funnels bucked flowers to conveyors for the next stage of the harvesting process.
REDUCE WASTE & SLASH COSTS
The MBX is the only commercial-scale bucking machine that cuts the stems into smaller pieces as it bucks. One bag of chipped stems from the MBX is equivalent to 20-25 bags of unchipped stalks. Slashing waste material volume 25X dramatically reduces green waste removal time and costs.
Streamline your waste disposal
The output from manual and competitive bucking machines creates waste haystacks, which have large space requirements and are challenging to move. This unnecessary volume adds cost and complexity to the harvest process. Watch the video to compare traditional green waste byproducts to the MBX output.
Have Questions?
Every Mobius MBX comes with our unprecedented money-back guarantee. If you are not blown away by the speed, precision, and waste removal cost savings of the MBX debudder — or if it deviates from your performance requirements in any way — simply return the MBX for a full refund.
Uncompromising 304 stainless steel construction and the included cleaning guards allow for this industrial debudder to be safely pressure washed for easy cleaning. The simple, robust design easily integrates into automated harvesting workflows and is GMP-ready for hassle-free compliance.
100% Stainless Steel Construction
IQ/OQ Documentation Package
Washdown Compatible
Cleaning Guards Included
The MBX Bucker is engineered to operate in GMP-certified food and pharmaceutical manufacturing environments. To exceed the cleaning requirements in these environments, the MBX is built for safe, fast, and frequent cleaning with all stainless panels, cleaning guards, and an entirely pressure-washable design.
Health and safety concerns are a major factor in a company's short and long-term financial viability. That is why we designed the industry's only fully-guarded bucker.
Fully Guarded
The glove-friendly control panel includes a reverse setting to help clear stem obstructions and a safety stop within operator reach. The unit is compliant to CSA guarding standards to ensure hands stay clear from moving parts throughout the bucking process.
CSA • OSHA • ANSI
The MBX Bucker machine has been installed worldwide in the most stringent health and safety environments.
Integrate with the Automation Suite
Our machines are durable and built to last, all Mobius machines come with a 1-year warranty and continued customer support and service throughout the lifetime of your equipment.
The MBX Bucker has a safety-first design with reverse settings to help clear stem obstructions. It is compliant with CSA guarding standards and features a glove-friendly control panel with a safety stop in operator reach.
The MBX is the only commercial cannabis and hemp bucker and debudder to feature an integrated stem-chipper. The stem chipper clips stalks into short pieces as you buck, reducing plant waste volume by 25-fold.
Yes. The MBX Bucker is designed for both wet and dry flower.